A potential liquidation of FTX holding tokens will have a significant impact on the market as the figure hits $1.3 billion in assets experts opine.
Justin Sun, the founder of Tron Network contemplates making a bid for the assets held by FTX to reduce the impact a sale could have on the market as he aims to ignite growth in the sector.
Recent data from market intelligence firm Messari shows FTX holds $1.3 billion excluding stablecoins in liquid assets with liquidations possibly starting on Wednesday. 
The impact on the market differs depending on each token relative to its weekly traded volumes. 
Per the data, FTX's Bitcoin (BTC) holdings stand at approximately $353 million which is about 1% of the asset's weekly volumes so a sale will not have a significant impact on the market like others. 
For Dogecoin (DOGE), Polygon (MATIC), and Tron (TRX), FTX and Alameda Research hold $20 -$30 million which goes up to 12% of weekly volumes, a figure that can affect asset prices in the market.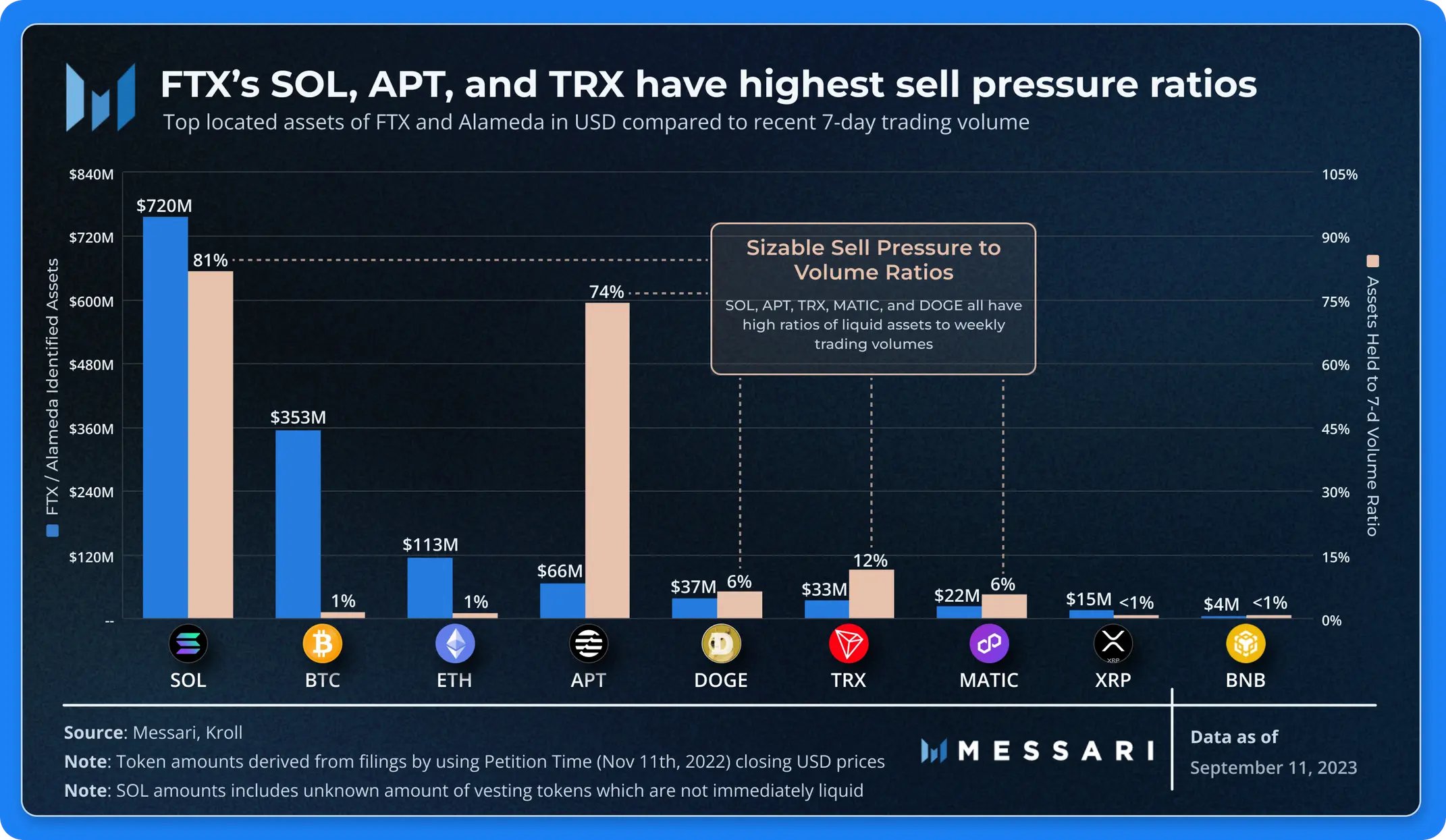 FTX Solana (SOL) holdings of $720 million would have recorded the most significant impact on the market but the majority of assets are not available on the open market as only $9.2 million SOL will be unlocked per month. 
Sun added on X (formerly Twitter) that he can purchase the TRX tokens through over-the-counter transactions.
The market winter bites harder
The digital asset market has recorded a rough patch over the past months following a series of unfortunate events and wider macroeconomic factors.
Last year saw both the collapse of the Terra ecosystem and FTX which wiped billions off the market and dwindled investor confidence. 
Overall, some assets were down over 55% of their values with BTC trading below $20,000. This year sparked a fresh resurgence in the market heightened by renewed institutional demand following BlackRock's ETF application. 
However, BTC has slumped from its year's high of slightly over $31,000 and currently exchanges hands at $25,806 raising fresh concerns among bulls.
With struggling market prices, observers fear that the upcoming FTX liquidations will have a significant impact on the prices of assets particularly DOGE, MATIC, and TRX. 
FTX bankruptcy proceeding continues
A new court filing reveals that bankrupt crypto exchange, FTX holds $7 billion in assets with the firm keen on concluding its proceeding and restructuring plans by Q2 2024. 
According to the filing, the assets range from digital assets, to venture investments, and recovered property. Solana, BTC, and ETH lead the pack in terms of FTX holdings crypto holdings which stand at $3.4 billion. 
The firm also holds $4.5 billion in 438 venture investments and 38 Bahamian properties with a combined value of $200 million. 
It has also been disclosed that over 75 companies including cryptocurrency, financial and individual investors have shown interest in buying these assets.