Dr. Andrew J. Elliott of the Hospital for Special Surgery looked at the slowed-down footage of Aaron Rodgers' injury in his first start for the New York Jets on Monday night and knew an Achilles injury would be the diagnosis. 
"When I saw the reverberation clip, yes," Elliott told Fox News Digital when asked if he saw the clip where a clear pulse went through Rodgers' calf. 
The diagnosis was clear after Rodgers underwent an MRI on Tuesday, and he revealed Thursday night that he did not waste any time getting surgery done to repair the tendon. Rodgers shared a picture on his Instagram Stories, thanking Dr. Neal ElAttrache and his staff for a "great" surgery. 
CLICK HERE FOR MORE SPORTS COVERAGE ON FOXNEWS.COM
Now, the road to recovery begins for Rodgers, and it is a long road to travel with an Achilles injury. However, though he has not made his intentions for the 2024 season known yet – Rodgers did vow to "rise again" in an Instagram post. Rodgers immediately getting surgery after learning of his diagnosis shows that he at least wants to start his recovery timeline as quickly as possible. 
So does that mean Rodgers can return next season by Week 1?
"I think that's a very doable date," Elliott, who has performed over 250 minimally invasive Achilles tendon repairs, said decisively. 
Jets fans may be thinking there is no way a 40-year-old quarterback can be ready for next season after suffering that kind of injury, but Elliott broke it all down to give everyone a better understanding of the process Rodgers will be entering and why he can still play at his elite level once he returns. 
AARON ORDGERS SAYS ACHILLES SURGERY 'WENT GREAT' AS ROAD TO RECOVERY BEGINS
First, the Achilles tendon is the largest of its kind in the body. Everything you do – walking, running, climbing – needs the Achilles tendon to be functioning properly. So you can understand what makes it so important for an athlete. 
There is also no way to expedite recovery. The tendon will heal over time as long as diligent rehab is done, and more importantly, it is not rushed. 
Every patient is different, Elliott pointed out as well. An example of this is NBA superstar Kevin Durant needing 16 months to return to form compared to the usual one-year timeline. 
Before a timeline for Rodgers even comes into the conversation, Elliott says Rodgers not walking at all on his left leg starts the recovery process. 
"You do have to have a period of immobilization to allow wounds and things to heal up," he explained. "But we try to get things moving early within a short range of motion, just so the tendon can start gliding and moving. We don't want to put too much stress on it to stretch it out, because once you stretch it out, that means you're going to be permanently weak. We try not to get to that stage early."
For Elliott, that is the key. Don't stretch out the tendon. Doing so usually occurs when rehab is rushed or too aggressive for his patients. 
The next step for Rodgers would be "isometric exercise," or exercise that does not require motion. Think a leg lift or a plank.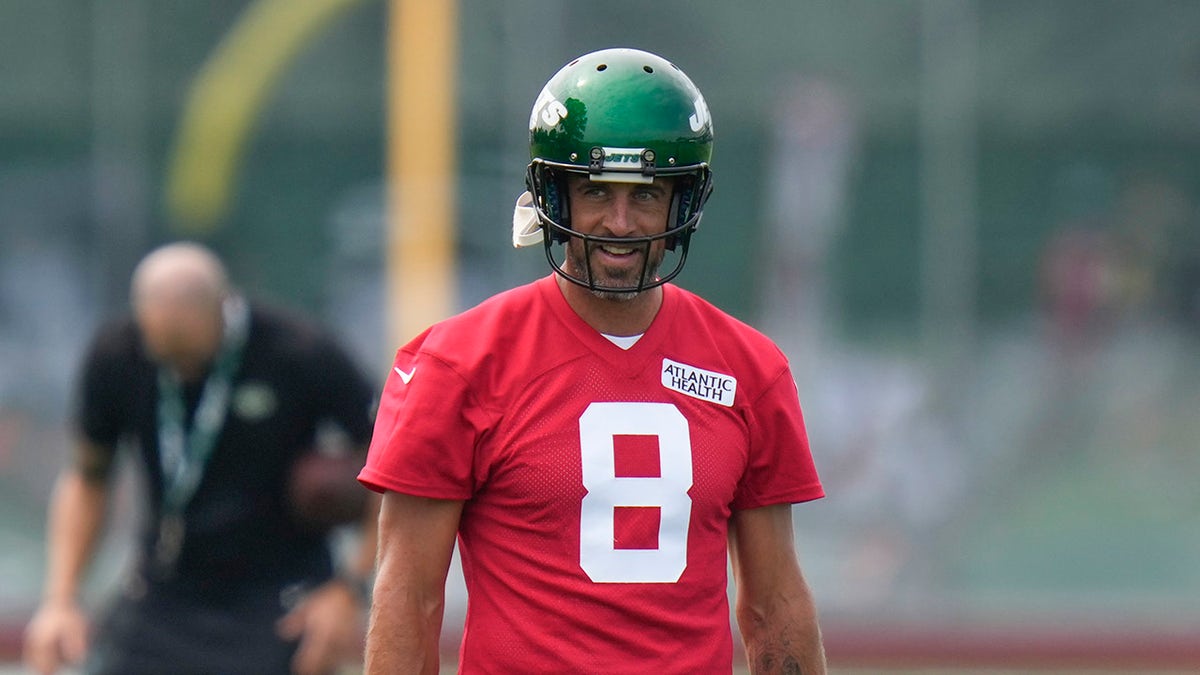 "We also get them going with something we call BFR, or blood flow restriction, which kinda keeps the muscle healthy, keeps the muscle thinking it's working out even though it's not really working out that much. I'm sure they're going to be having Aaron do that," Elliott said. 
The immobilization period for Achilles recovery is not as long as some may believe. Elliott said after three weeks, Rodgers will likely put some weight on that left foot again. Three weeks later, Rodgers could be "fully weight-bearing in a special boot," which allows the tendon to start to feel that load again. 
"At six weeks, I think it's healed enough that you start to bringing the height of the boot down so you bring it to a more normal type of position without them stretching things out," Elliott said. "Then, physical therapy is starting, continuing with more isometrics. They're getting on a bike, and they're doing some early isokinetic strengthening on the bike. They're walking – I encourage them to do stairs up and down to get the strength back."
JETS' NATHANIEL HACKETT CONFIDENT AARON RODGERS WILL RETURN NEXT SEASON
Getting out of the boot, as long as all things go well, could be between nine and 10 weeks. 
As the rehab process continues, Elliott stressed the importance of physical therapists being diligent with how Rodgers feels. It all stems from not wanting to stretch the tendon. 
The next leap for Rodgers will be to attempt jogging and running, which is around the four-and-a-half-to-five-month mark. 
"Then, they're starting to work with more agility exercises," Elliott continued. "Then, they start maybe doing some jumping type of activities in a very controlled environment in the gym. Back to more sports-specific activities, and finally, more explosive activities by 10 months."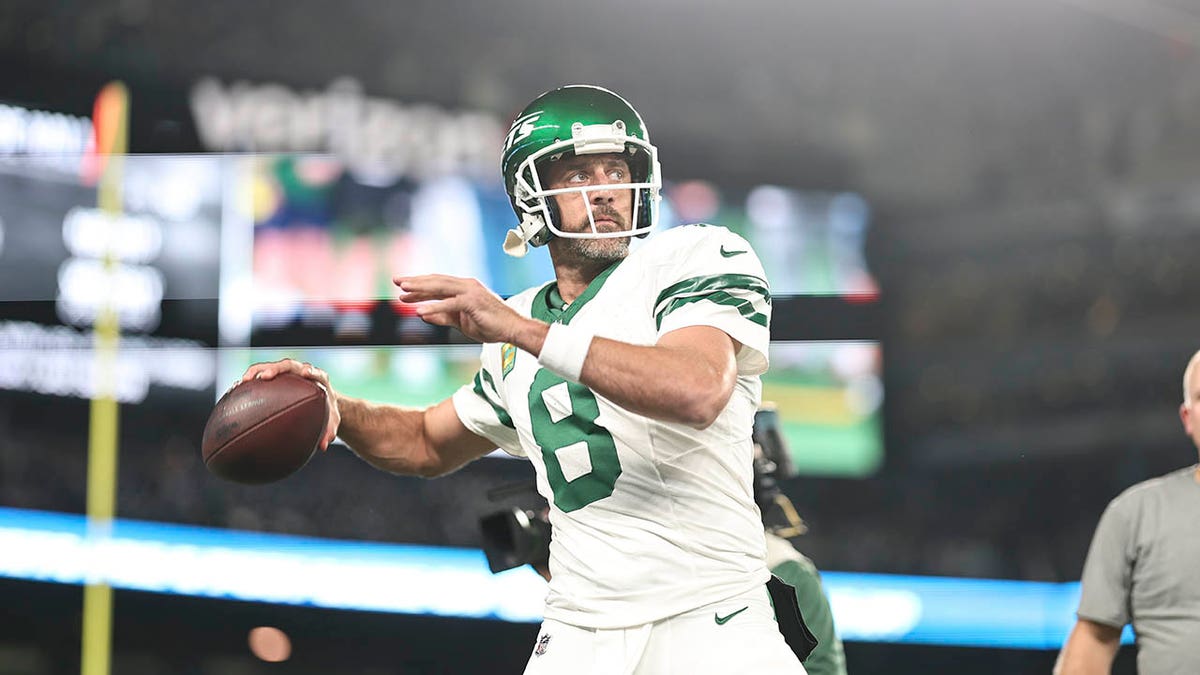 To be more specific, explosive activities refer to all the stuff Rodgers can do on the football field, planting in the ground and throwing among other drills. Next season's training camp starts July 2024. 
This is why Elliott is confident Rodgers can be back in time for the start of the regular season – again, if that is what he plans on doing. Another two months of rehab would be a full year, which is normally the recovery time. 
Additionally, Elliott is not worried about Rodgers' age during this rehab process. 
"Once you start getting into your 50s and 60s, yeah, I think the rehab process probably is a little slower," he said. "Those patients, as they're getting older, probably have a little more degeneration in their tendon that made their tendon weaker. 
"If you look at Aaron, he had a huge amount of force going through there. He ruptured like a 20- or 30-year-old."
Elliott admitted this will be a "long haul" for Rodgers. However, he mentioned Dan Marino suffering a torn Achilles during his 1993 season and coming back for six more seasons (granted he was 32 at the time of injury).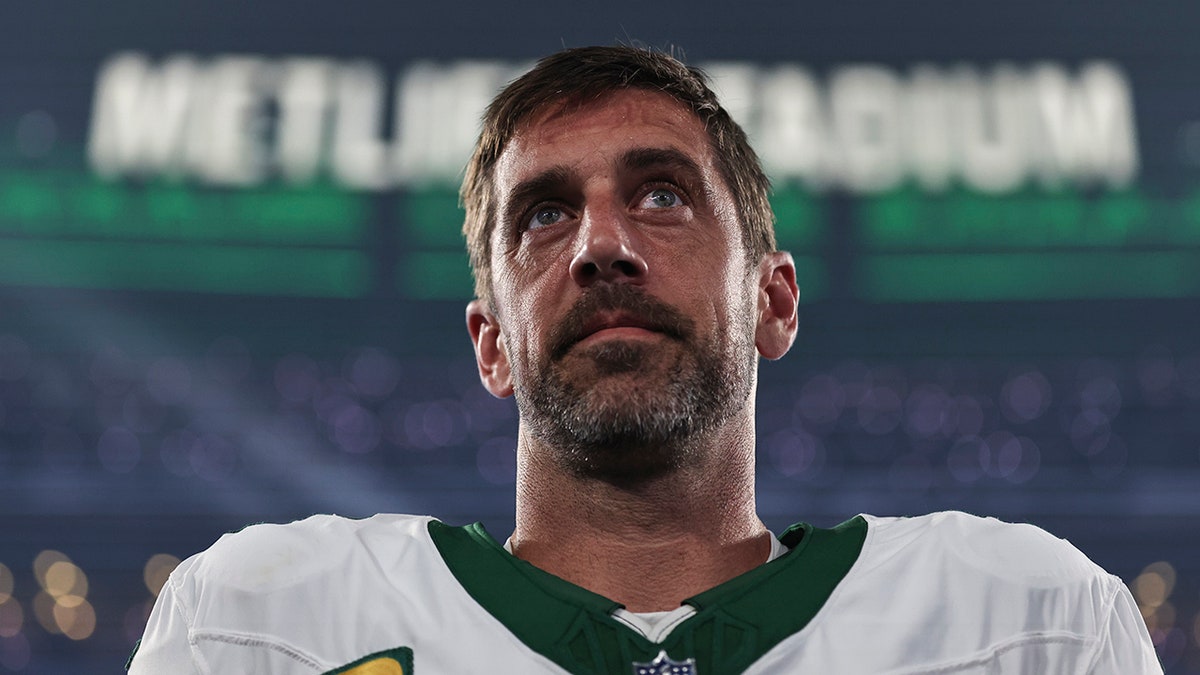 Playing quarterback is also favorable for Rodgers, because he does not need to cut like a wide receiver or drive into the ground like a lineman. 
"Aaron is a right-handed thrower and it's his left foot. So his left foot is more of a plant foot. For throwing purposes, I don't see it affecting his throw at all. Scrambling in the pocket is going to be a little different. Trying to move around and have that explosive power, he may feel it a little bit. 
CLICK HERE TO GET THE FOX NEWS APP
"You might have a little bit of weakness, but you can probably compensate for that in most instances."
Many things can happen during a six-week rehab process, let alone a full year, but if all goes well, Rodgers could be suiting up for Year 20, giving Jets fans hope yet again that he can lead them to Super Bowl glory.